- LED de 940 nm -
2835FIRC ‑ 94L14I150‑60A
En comparación con el LED de orificio pasante, el LED SMD tiene un mejor rendimiento. Tales como: un mejor rendimiento del envío de calefacción y un tamaño más pequeño. Empaquetamos este LED IR de 940 nm con materia prima de alta calidad. Después de encapsular, agregaremos una lente adicional en la parte superior del LED. El LED de orificio pasante tendrá un ángulo de visión estrecho . La gente podría pensar que solo hay una vez que eligen el tipo de LED SMD. Pero en alguna aplicación de algún diseño. Así que ahí estamos ~ . Tendremos un sistema de radiación más pequeño y más largo. ¿Necesita un LED domo para su proyecto? ¡Contáctanos para más detalles al respecto!
- Size: 3.85*3.85*H2.56mm

- Chip Number:1 chip

- Color: 940nm

- Type: water clear

- Chip brand: Epistar




- Different color are available

- Different wavelength are available

- Warranty: 5 Years


- RoHS, REACH, EN62471


- Uniform light output

- Long life-solid state reliability

- Low Power consumption


-Anti UV epoxy resin package


-High temperature resistance

- Tamaño del LED IR de alta potencia -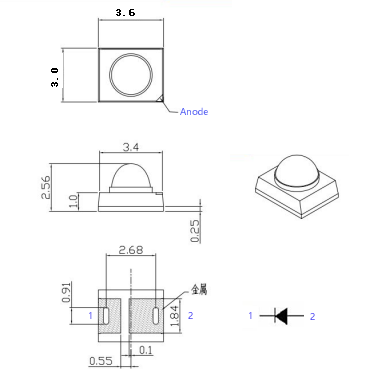 . Todas las dimensiones estan en milimetros ; 2. La tolerancia es de ± 0,10 mm a menos que se indique lo contrario.
- LED IR de orificio pasante de trabajo -
* Los colores de la foto fueron tomados por la cámara, tome el color de emisión real como estándar.
- Parámetros eléctricos -

Clasificaciones máximas absolutas en Ta = 25 ℃
Parameter

Symbol

Rating

Power Dissipation

Pd

230mw

Pulse Forward Current

IFP

500mw

Forward Current

IF

150mA

Reverse Voltage

VR

5V

Junction Temperature

Tj

115°C

Operating Tempertature

Topr

-40 - +80°C

Storage Tempertature

Tstg

-40 - +100°C

Soldering Temperature

Tsol

260°C

Electro-Static-Discharge(HBM)

ESD

3000v

Warranty

Time

5 Years

Antistatic bag

Piece

3000Bag

*Pulse Forward Current Condition:Duty 1% and Pulse Width=10us.

*Soldering Condition:Soldering condition must be completed with 3 seconds at 260°C
Características ópticas y eléctricas ( T c = 25 ℃ )
Parameter

Symbol

Min

Typ

Max

Unit

Test Condition

Forward Voltage

VF

1.4




1.8

V

IF=100mA



1.5
2.0
V
IF=150mA

Luminous Flux

Φ

60




70

mw/sr

IF=100mA



92


mw/sr
IF=150mA

Peak Wavelength

λP




940




nm

IF=20mA

Half Width

Dl




50




nm

IF=20mA

Viewing Half Angle

2q1/2




30





deg

IF=20mA

Reverse Current

IR






10

uA

VR=5V

Rise Time

Tr




15




ns

IF=20mA

Fall Time

Tf




13




ns

IF=20mA

*Luminous Intensity is measured by ZWL600.

*q1/2 is the off-axis angle at which the luminous intensity is half the axial luminous intensity.

*lD is derived from the CIE chromaticity diagram and represents the single wavelength which defines the color of the device.

- Conexión de cable dorado -

* Para mantener la larga vida útil de cada uno de los LED, la fábrica BestLED utiliza un cable de oro de alta pureza para la conexión del circuito interior

- Embalaje de LED IR -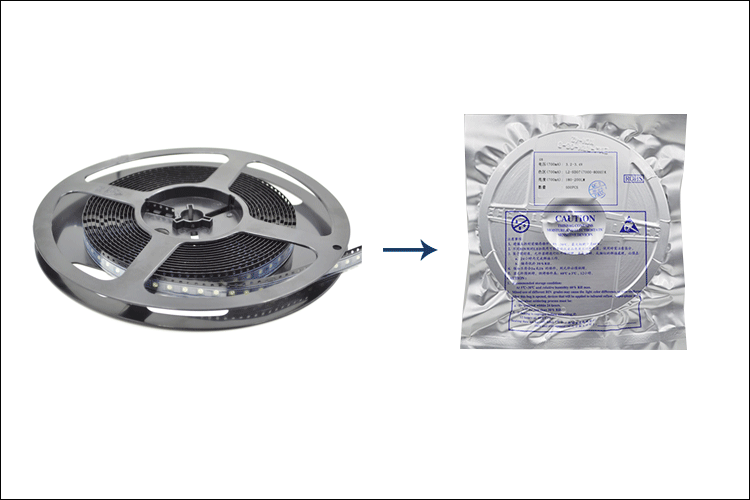 * Podemos empaquetar este LED con cualquier cantidad de paquetes y pegar o doblar los pines del LED según sus necesidades.
- LED SMD IR relacionado -

- Proceso de producción -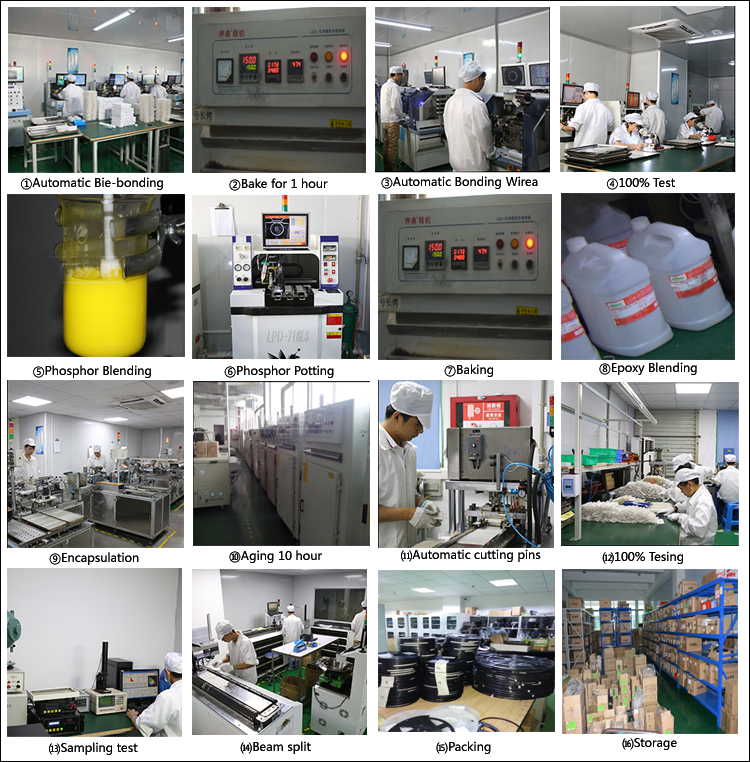 - LED IR SMD -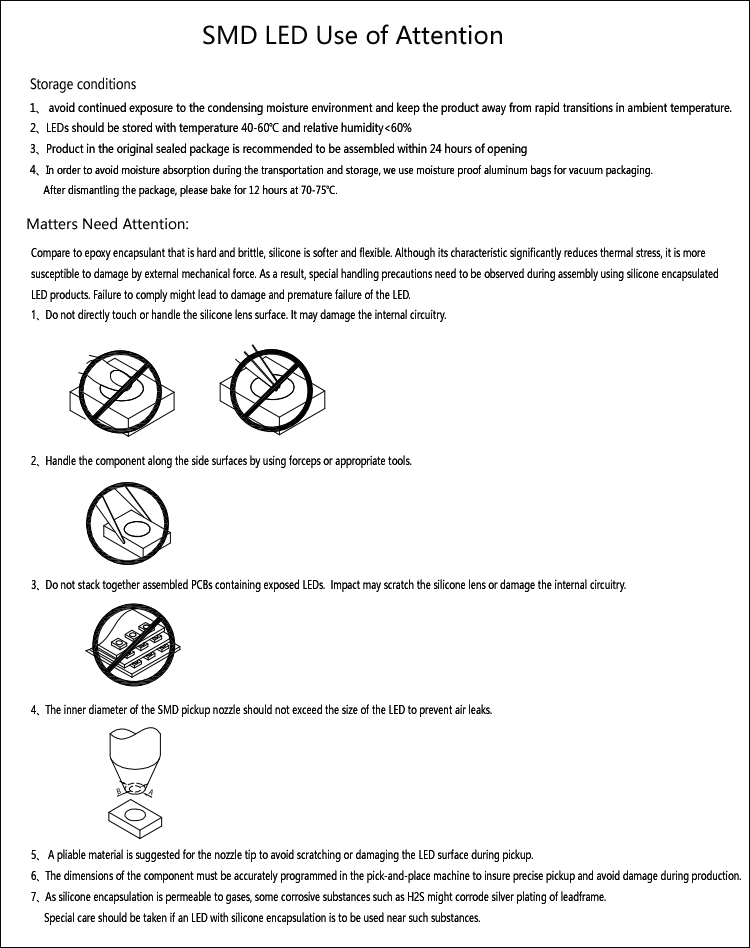 - Certificaciones -
GB / T19001-2008 / ISO9001: 2008, RoHS, CE, SVHC (ALCANCE), EN62471
- Ventajas -
1. El producto fue empaquetado por chip importado y de gran tamaño, con alto brillo y alto rendimiento
2. Usando alambres de oro puro 99.99 para soldar, nuestros productos tienen una vida útil más larga y un rendimiento estable
3. Usando el pegamento importado y de baja atenuación para empacar y obteniendo más de 80000 horas de vida útil
4. Nuestro producto puede ser ampliamente utilizado en varios tipos de lugares tales como: iluminación, monitores, productos electrónicos de alta tecnología.
5. Protección del medio ambiente: metales no tóxicos mercurio, sin radiación infrarroja y ultravioleta;