- 940nm pensamiento-agujero IRLED -
Un ángulo diferente hará que la iluminación sea diferente, cuanto más ancho sea el haz del haz, mayor será la distancia de radiación. Por el contrario, el ancho de haz más amplio, el área de superficie de iluminación más grande. Hay varios tipos de ángulo de visión en la fábrica Best LED para su elección, de modo que puede elegir cualquiera de ellos para su aplicación. En el mercado, la mayoría de las personas utilizan el LED de 850 nm o el LED de 940 nm para la cámara de visión nocturna. Entonces, puede que se pregunte si el LED 810nm no puede funcionar para esto. La confianza es que estos 810nm LED no solo pueden usarse en dispositivos de visión nocturna, sino que también pueden funcionar mejor que los 850nm LED. Que puede reemplazar a 850nm LED y agregar reconocimiento facial a personas. Al igual que todos los LED de orificio pasante, estas lámparas LED infrarrojas de 810nm también tienen tipos de visualización para su elección: 5 grados 810nm LED, 20 grados 810nm LED, 30 grados 810nm LED, 60 grados 810nm LED, 90 grados 810nm LED ect. Normalmente, los LED de 940 nm se empaquetarán con un tamaño de LED de orificio pasante de 5 mm u otra caja de LED SMD. Pero para algún proyecto, las personas tienen que usar lentes más grandes para aumentar el área de radiación. ¿Necesita unos 810nm LED con un precio más competitivo? ¡Contáctanos ahora!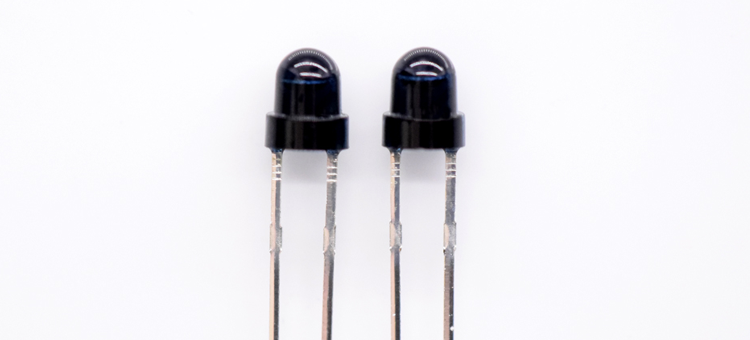 - Size: 3mm*H4.5mm

- Chip Number: 1 chip

- Color: IR Receiver

- Type: black clear

- Chip brand: Tyntek

- 60 degree

- Different color are available

- Different wavelength are available

- Warranty: 5 Years


- RoHS, REACH, EN62471


- Uniform light output

- Long life-solid state reliability

- Low Power consumption


-Anti UV epoxy resin package


-High temperature resistance
- Tamaño del

LED pasante IR

de 3

mm

-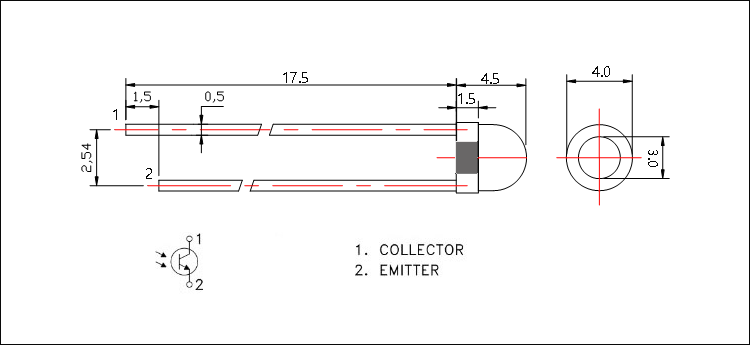 * Este estuche también está disponible para otros LED, tales como: LED verde con orificio pasante de 5mm, LED UV, LED 660nm, LED 940nm, LED pasante azul de 5mm, LED amarillo, LED ámbar ect *
- Trabajando a través del orificio IR LED -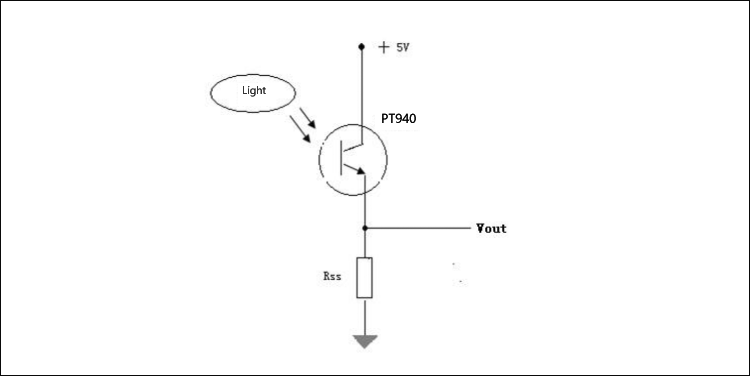 * Los colores de la foto fueron tomados por la cámara, tome el color de emisión real como estándar.
- Parámetro IR LED de orificio pasante -
Parameter

Symbol

Min

Typ

Max

Unit

Test Condition

Collector-Emitter Voltage

VCEO

30

V

Emitter-Collector Voltage

VECO

5

V

Collector Dark Current

ICEO

30

nA

VCE=20V

Ee=0mw/cm2

Collector Dark Current

ICEO

150

uA

VCE=70V

Ee=0mw/cm2

On State Collector Current

IC(on)

0.7

4

mA

Ee=1mw/cm2

Vce=5v

Collector-Emitter

Breakdown Voltage

Bvceo

85

V

ICBO=100uA

Ee=0mw/cm2

Emitter-Collector

Breakdown Voltage

Bvceo

8.2

V

IECO=10uA

Collector-Emitter

Saturation Voltage

VCE(sat)

0.3

V

IC=2mA

IB=100uA

Ee=1mw/cm2

Photocurrent 1

IPCE

300

400

uA

Vce=5V

Ee=1mw/cm2

λP=850nm

Photocurrent 2

IPCE

500

600

uA

VCE=5V

Ee=1mw/cm2

λP=940nm

Current gain

hFE

2000

3000

uA

VCE=5V

IC=2mA

Wavelenghth of Peak Sensitivity

λP

940

nm

Range of Spectral Bandwidth

λ0.5

700

1100

nm

Response Time-Rise Time

tR

15

us

Vce=5v

Ic=1mA

RL=1000Ω

Response Time-Fall Time

tF

15

us

Half Sensitivity angle

△λ

±10

deg

Collector-base Capacitance

CCB

8

PF

F=1MHz,VCB=3V
- Conexión de cable dorado -

* Para mantener cada uno de los LED de larga vida útil, BestLED utiliza un cable de oro puro de alta pureza para la conexión del circuito interior

- Embalaje IR LED -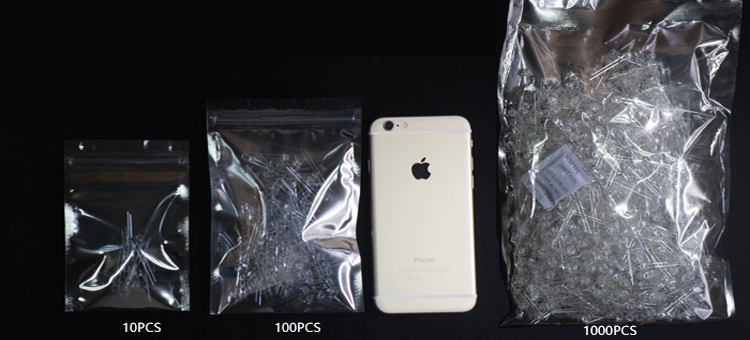 * Podemos empaquetar este LED con cualquier número de paquetes y pegar con cinta adhesiva o doblar los pines del LED como su requisito.
- LED infrarrojo relacionado -

- Proceso de producción -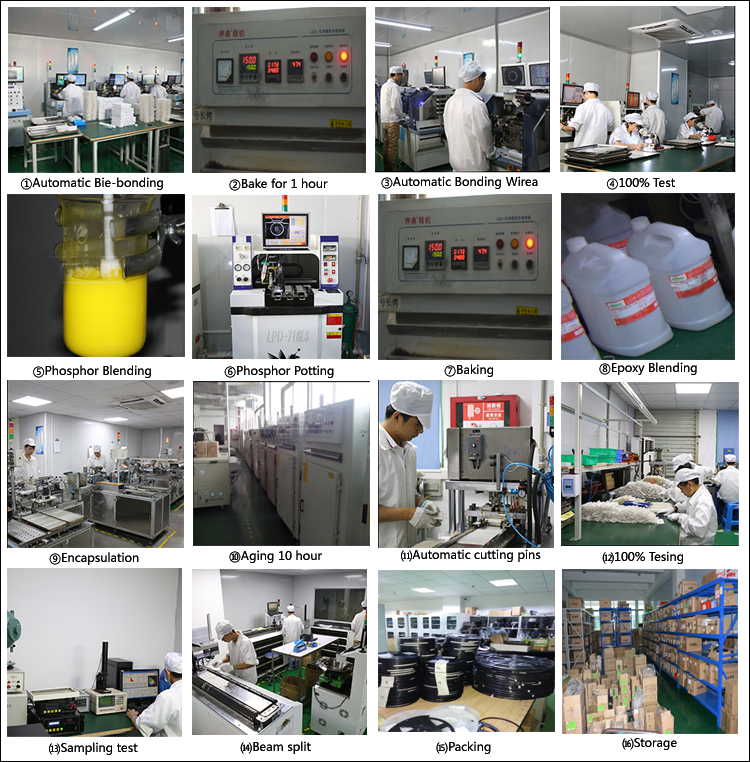 -

LED IR de orificio pasante -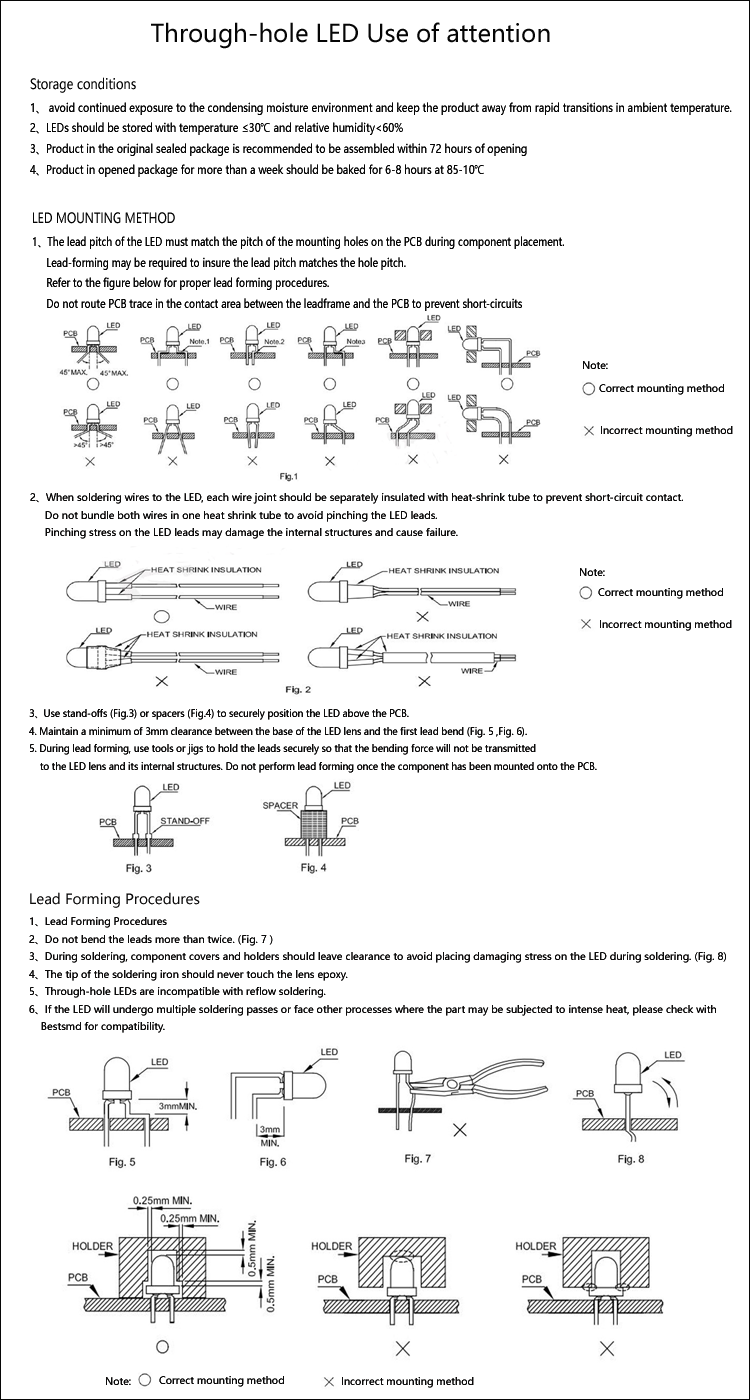 PRODUCTOS POR GRUPO : IR LED > LED IR de 940nm con orificio pasante