-590nm LED -
5514FYC-14
Estos 5514FYC-14 es un LED redondo de 5 mm con lente superior plana. Este tipo de LED de orificio pasante está diseñado para un rendimiento superior en aplicaciones de señalización e iluminación que requieren una salida de luz uniforme de gran angular. Este paquete dual en línea combina un LED de alta intensidad con una lente de paquete plano superior para proporcionar un alto brillo y un amplio patrón de radiación espacial. Puede ser ampliamente utilizado en la carta de canal y otros indicadores de retroiluminación, área de indicadores industriales y de consumo, etc. Para este LED de orificio pasante, se encuentran disponibles lentes transparentes, transparentes y transparentes. Diferentes lentes tendrán diferentes resultados de iluminación, siempre que nos comunique su requerimiento, produciremos este LED como su demanda. Si buscas alguna lámpara LED cilíndrica de 5mm. Simplemente no dude en contactarnos ahora y la calidad no le dejará decepcionado.

- Size: 5mm*5mmHigh

- Pin length: 27mm

- Color: Yellow LED

- Lens type: water clear

- Different color are available

- Warranty: 5 Years


- Different wavelength are available

- RoHS, REACH, EN62471


- Uniform light output

- Long life-solid state reliability

- Low Power consumption


- Anti UV epoxy resin package


- High temperature resistance

- Parámetros de dimensión -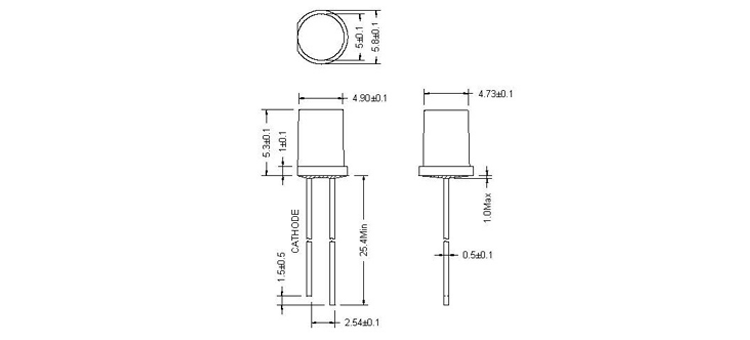 * 1. Todas las dimensiones estan en milimetros ; 2. La tolerancia es de ± 0.10 mm a menos que se indique lo contrario.
También envasamos 365nm LED, 940nm LED, 850nm LED, Red through-hole LED,
LED azul de orificio pasante, LED IR con lente de agua clara de 5 mm.
- Parámetros eléctricos -

Calificaciones máximas absolutas en Ta = 25 ℃

Parameter

Symbol

Rating

Power Dissipation

Pd

75mw

Pulse Forward Current

IFP

100mA

Forward Current

IF

30mA

Reverse Voltage

VR

5V

Junction Temperature

Tj

100°C

Operating Tempertature

Topr

-40 - +80°C

Storage Tempertature

Tstg

-40 - +100°C

Soldering Temperature

Tsol

260°C

Electro-Static-Discharge(HBM)

ESD

2000v

Warranty

Time

5Years

Antistatic bag

Piece

1000pcs

*Pulse Forward Current Condition:Duty 1% and Pulse Width=10us.

*Soldering Condition:Soldering condition must be completed with 3 seconds at 260°C
Características ópticas y eléctricas (T c = 25 ℃)
Parameter

Symbol

Min

Typ

Max

Unit

Test Condition




Forward Voltage

VF

1.8

2.1

2.4

V

IF=20mA




Luminous Intensity

IV

1000

1500

mcd

IF=20mA




Peak Wavelength

λP

595

nm

IF=20mA




Dominant Wavelength

λD

587

590

595

nm

IF=20mA




Half Width

Dl

12

nm

IF=20mA




Viewing Half Angle

2q1/2

±70

deg

IF=20mA




Reverse Current

IR

5

uA

VR=5V




Rise Time

Tr

10

ns

IF=20mA




Fall Time

Tf

10

ns

IF=20mA




*Luminous Intensity is measured by ZWL600.

*q1/2 is the off-axis angle at which the luminous intensity is half the axial luminous intensity.

*lD is derived from the CIE chromaticity diagram and represents the single wavelength which defines the color of the device.
- Conexión de cable dorado -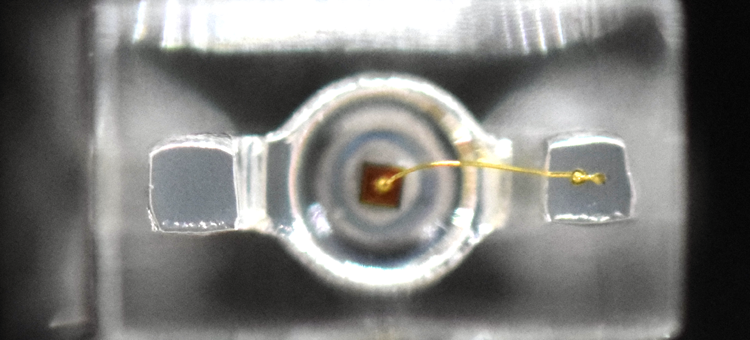 - Embalaje -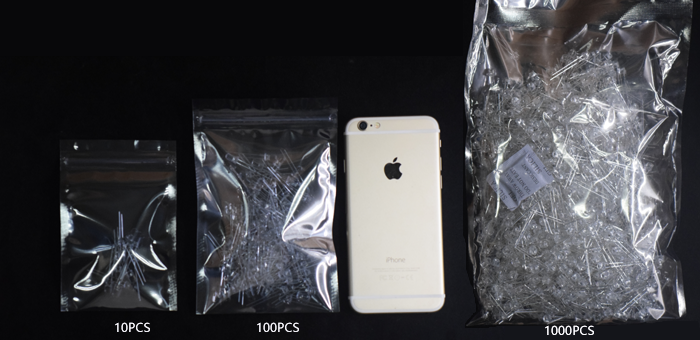 - Solicitud -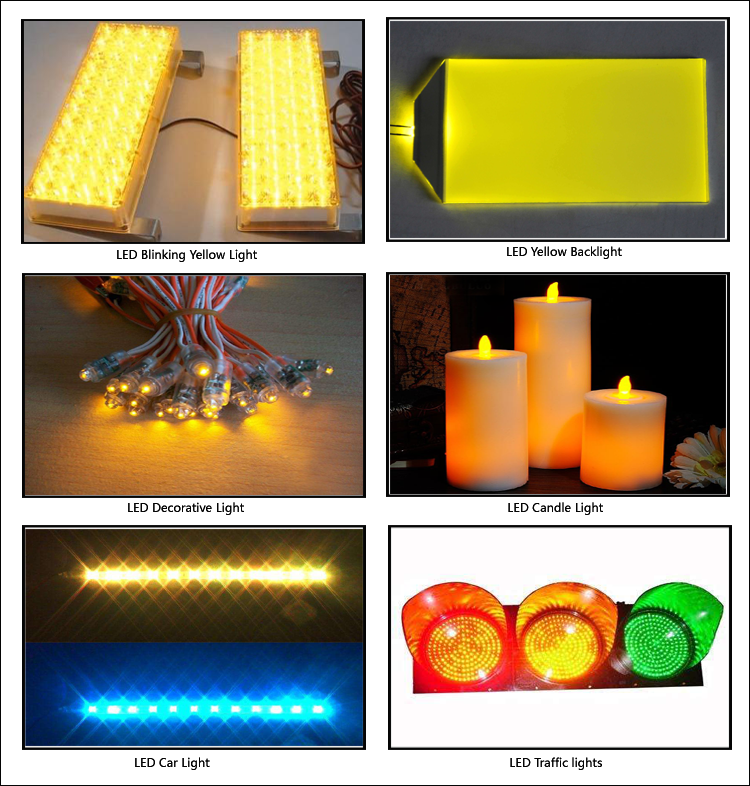 - Relacionados 590nm LED -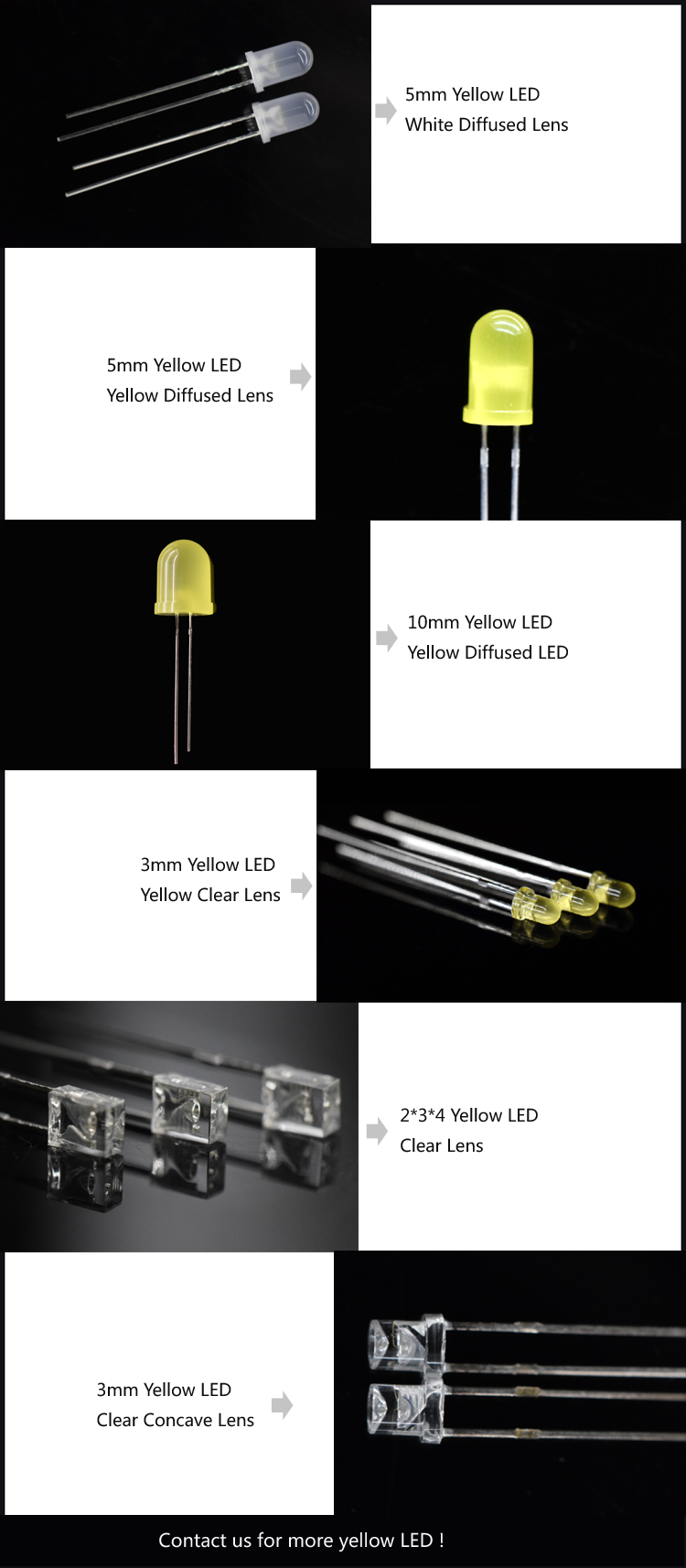 - Producción -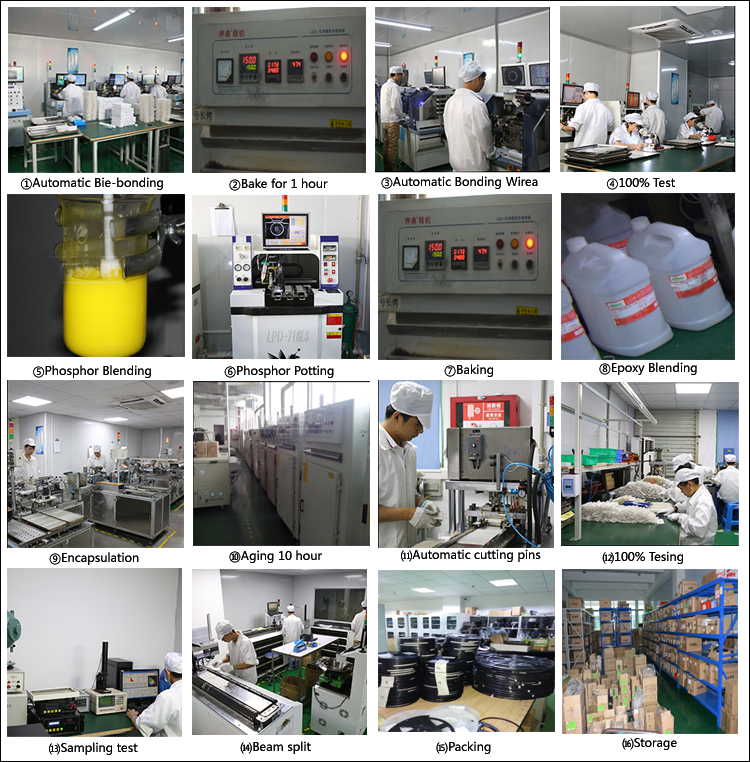 - Uso de la Atención -